Welcome to the December Newsletter
Keep in touch with the latest news from the National Council for Hypnotherapy and developments in our wider profession with our monthly newsletter. If you have anything you would like us to feature just email us at The Journal Editor
New look New horizons New successes: The NCH powers ahead
Our annual general meeting and extravangza on November 19th was an inspirational event. It left everyone who attended confident that the NCH is building on its success as the best professional organisation out there. Our chairman Paul White extended his thanks to Paul Howard for organising the event and to everyone who attended either in person or by proxy at the AGM. He also stressed the NCH's commitment to implement the changes outlined during the day as quickly as possible.
At the AGM all the motions were carried and Fiona Robinson from Wrexham won the coveted iPad prize.
NCH rebranding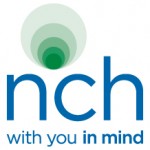 We are in the fortunate position of doing so well in recruiting members and increasing the uptake of our HPD that we have embarked on a leap forward for our branding and our website. Our executive director Sophie Fletcher kicked off the day by revealing our organisation's new look and detailing the research and feedback which has led us here.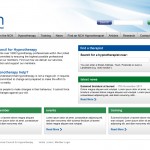 The new logo (top) was unveiled together with the new look to the website (right, click on it to enlarge).The overwhelming response to it has been positive, with members saying that it well reflected our professional values. Members have also welcomed the announcement of plans to develop our website in the next few months. The new home page will be much simpler so it is easier for members to find their way around. It will have the 'find a therapist' function upgraded and made easier to use. This should ensure that NCH members move up the Google rankings more quickly (or so our technical whizzes Rob Woodgate and Paul Howard promise us).
If you missed it….
For any of you who missed the extravaganza there were some great speakers.
Here is a quick taster of what you missed; (a DVD of the presentations will be out soon so keep an eye for details on our website and Facebook page).
Rob Woodgate spoke showcasing a new initiative – Hypnotension – a hypnotherapy programme to help people with high blood pressure. He described what high blood pressure is and how modern life, which forces us to override our natural activity/resting rhythms is making the problem worse. He described how we can use our skills to help people to use their own natural responses to control the problem. The programme will be fully reviewed in the next journal.
Well-known nutritional expert Patrick Holford inspired us all by his clear and lively presentation on how our food intake affects our mood and mental health. He explained how our modern diet can cause metabolic syndrome and depression. He recommended a low GI and balanced diet as well as targeted mineral and vitamin supplements as a better way of improving mood and even controlling mental illness. Interspersed in his presentation were inspirational video clips from patients who had recovered from severe illness under his care.
In the afternoon Dr Brian Roet charmed us by his relaxed chatty talk on how we can help our clients if we understand how to relate to our clients' individual thought processes and their compartmentalised thinking patterns.
He described the therapist as being a guide saying: 'Therapy has been likened to climbing a difficult mountain with the help of an experienced guide. The climber fears the worst. The guide knows it is safe and is aware of the climber's limitations…his skill is in helping the climber realise he can do it.'
Dr William McGeown of Hull University presented his team's latest research showing how brain activity is affected by hypnosis. His research shows differences between highly suggestible people and low suggestible people and changes in the brain when people are asked to carry out certain tasks following hypnotic induction. He has also been able to correlate certain brain patterns with people's reports of changes in perception while undergoing hypnosis. This research has real implications for the old state -v- non state debate within our profession. Dr McGeown's research is ongoing and we will be reporting on his progress regularly.
Our chairman Paul White spoke at the AGM section of the day. All resolutions presented to the AGM were passed. He presented our accounts and was pleased to announce that we are in a healthy position financially. The meeting also saw the election of three new directors; Andy Cox (who will be looking after research), Cathy Simmons (who will be looking after supervision) and Sue Roberts (who will be looking after ethics) . You will be able to read detailed profiles of each of them and hear about their plans for their areas in the next journal.
Welcome to our new fellows
The AGM also saw us elect two new fellows to the NCH. Our chairman Paul White, and long time (now retiring executive member) Rob Woodgate were both elected by the members. This was a reflection of the amount of work they have put into developing the organisation and which they will continue to do.
…And to our new specialist advisers
In other developments we have some new specialist advisers to take the lead in developing our theory and practice in the following areas.
Gary Baker (sports)
Russell Davis (fertility)
Helen Zarod (pain management)
Vernon Sykes (stress and pain management)
Gill Wood (phobias)
Eleanor Copp, (pregnancy and birth)
Steve Miller (weight management)
Chloe Cook (eating disorders)
Each will be taking some space in the newsletter and in the journal over the coming months to tell you how they can help support your practice. First up will be Vernon Sykes in the next journal
He told us this story which we think you will like:
"HYPNOTHERAPY IS HOLISTIC"
At the last session for an old age pensioner he commented:
"tha was right about hypnotherapy being holistic – tha's not only cured the pain in ma knees tha's cured mi piles an all! And I didn't even mention 'em"
Hypnotherapy in the news
Russell Grant stops thinking about his bad hip while dancing – using hypnosis
Hypnosis helps swimmer swim the Clyde in October
Be aware
Here are some awareness days, weeks and months that are coming up soon. We thought you may like to know about these so you can use them in your marketing. Do let us know if you have any take up or if you get to talk to the media.
National Anger Awareness Week
1-7 December:
Learn to manage anger
Global Belly Laugh Day
24 January:
'Having a good chuckle causes the tissue lining our blood vessels to expand and
increase blood flow. This makes us feel more positive, boosts our immune systems, increases pain tolerance and generally just makes us feel happier and more energetic!
Food Allergy and Intolerance Week
24-27 January:
This year as part of Food Allergy and Food Intolerance Week, Allergy aims to help and inform everyone affected by a food allergy. While some can be more easily managed and usually result in more minor symptoms, others can be fatal
National Storytelling Week!
28 January – 4 February:
An ancient skill which can reveal so much
Latest CPD listings
Here are some of the courses coming up. For more details go to our website:CPD Courses
21st January: Anxiety Management Programme
Sutton in Ashfield
27th January: Self-Hypnosis Seminar
Bournemouth
4th February: Weight Management Programme
Sutton in Ashfield:
25th February: Pain Management Programme
Sutton in Ashfield
13th March 2012: The Nature and Treatment of Tinnitus
Leeds
14th/15th March 2012: The Nature and Treatment of Depression, Incorporating the Use of Hypnotherapy
Leeds
The National Council For Hypnotherapy:
For general enquiries email NCH Admin
for newsletter or Journal Journal Editor
Finally
We are working hard to update our email details. If you have recently changed your email address can you please send new details to NCH Admin
SEE YOU NEXT MONTH