Fiona Robinson

,

MNCH (Reg.), HPD, DBS

National Council for Hypnotherapy

Registered

Hypnotherapist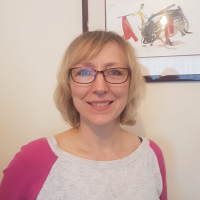 Overview
Hello, I am now seeing clients on line as well as face to face where appropriate. If you are curious about whether online video can work for you, do contact me and we can have a chat and a free short trial online. It is very effective. If you wish to find out about face to face sessions, do ask.

I am a qualified clinical hypnotherapist. My background is in nursing (27years) and I qualified as a Professional Life Coach in 2004; currently I practise as a Solution Focused Hypnotherapist, having trained at the Clifton Practice, Bristol: DHP, HPD.
When you or your life are out of balance in some way, stress is experienced and can manifest in a range of symptoms, from nail-biting, phobias, anxiety, depression and much more. Using a combination of solution focused therapy, hypnosis, and practical techniques, positive changes can be achieved both short and long-term.
Specialisms

Addictive Behaviours
Anger Management
Bereavement
Breaking Unwanted Habits
Confidence & Self Esteem
Eating Disorders
Emotional Issues
Irritable Bowel Syndrome
Obsessive Compulsive Disorder
Pain Control
Panic Attacks
Performance (Sports, Memory etc)
Phobias & Compulsions
Post Traumatic Stress
Relationship, Sexual & Infertility Issues
Sleep Issues
Smoking Cessation
Stress & Anxiety
Weight Issues