Caroline Prout

,

MNCH (Acc.), HPD, NCH Supervisor

National Council for Hypnotherapy

Registered

Hypnotherapist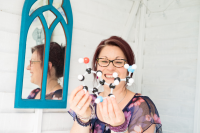 Overview
I empower people to take back control of their lives and go from surviving life to thriving in life!

Having lived so much of my life through the lens of anxiety it is my mission to help others to be their best! My fear of not being good enough drove me to work harder and harder to the point of physical burn out and a diagnosis of M.E. It was on my journey to recovery that I learnt a different way to live my life, free of anxiety, stress and overwhelm. So I know what it takes to wrestle back that control, to build your confidence and move forward in to your best life!

Using my training in Neuroscience, Hypnotherapy and coaching I will guide you to unlock the power of your brain, take back control from the exhaustion of stress and anxiety to build your confidence and self esteem and discover the best version of you!

I qualified from the Clifton Practice Hypnotherapy Training School (CPHT) in 2013, one of the leading schools in the UK, and am qualified at HPD level. I am a member of the National Council for Hypnotherapy the UK's leading not-for-profit professional association as well as the Association for Solution Focused Hypnotherapy and the Complementary and Natural Health Care Council.

I use a clinically proven Solution Focused approach to help with a wide range of mental and physical health related issues, including stress, anxiety and overwhelm, fears and phobias, depression and panic attacks, confidence and self-esteem, focus and motivation. Due to my own personal experiences I have also chosen to specialise in some key areas.

Are you ready to discover who you can really be?
Specialisms

Addictive Behaviours
Anger Management
Bereavement
Blushing
Breaking Unwanted Habits
Confidence & Self Esteem
Eating Disorders
Emotional Issues
High Blood Pressure (Hypertension)
Irritable Bowel Syndrome
Medical Issues
Obsessive Compulsive Disorder
Pain Control
Panic Attacks
Performance (Sports, Memory etc)
Phobias & Compulsions
Post Traumatic Stress
Relationship, Sexual & Infertility Issues
Skin Disorders
Sleep Issues
Stress & Anxiety
Weight Issues
Working With Children