Alison Gifford

,

MNCH (Reg.), HPD

National Council for Hypnotherapy

Registered

Hypnotherapist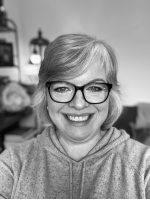 Overview
About Galene Hypnotherapy
I use a mix of approaches to help people, blending hypnotherapy with empathy, support, parts therapy and other therapeutic techniques to tailor the sessions to your individual circumstances.
I aim to treat each person holistically, looking at them as a whole, to help identify and then deal with the underlying issues. I help each individual develop their own strategies for resolving their issue, with techniques that effect long term change.

Whilst the symptoms the person may present with may be the same, each person needs a unique approach that is specific to them to help with their underlying issues.

Everyone progresses through the therapy process at their own pace, to achieve a resolution of their issue; some are faster than others and there is no set time frame. Each consultation lasts one hour and the number of sessions is determined by the individual and their symptoms, their commitment to the process and their own journey to a resolution.

Prior to booking your appointment, I like to have a chance to discuss your current difficulties and issues to get an idea of your particular needs and the aims you have for the treatment. We can do this by phone or email, but it is important that you feel we can for a good working alliance to ensure that the therapy achieves the results you deserve.

I can explain how I work, what you can expect from a session and I can answer any questions you may have. I may be able to offer information and advice at this stage that is helpful from the start.

There is no obligation to book an appointment after this initial discussion – it is important you find a therapist with whom you feel comfortable.

About me:
I am a pharmacist with over 25 years' experience having worked in hospital and community pharmacy before finding my way into hypnotherapy. Hypnotherapy offered a way for me to help people with the issues that often underpin their medical complaint, and where medication was only treating the symptoms of the issue, rather than dealing with the underlying cause.
I also have a PhD and have taught, and provided student support, in a University for a number of years. I have realised the power of hypnotherapy to help with studying, focus, exam nerves and fears about school/college. I enjoy working with people, both young and old, who are studying and want to enhance their learning skills.


Specialisms

Bereavement
Breaking Unwanted Habits
Confidence & Self Esteem
Emotional Issues
Irritable Bowel Syndrome
Medical Issues
Pain Control
Panic Attacks
Performance (Sports, Memory etc)
Phobias & Compulsions
Sleep Issues
Stress & Anxiety
Working With Children
Other Information
Special Offers
Emergency Services Discount
NHS Staff Discount
Student Discount