Amy Solon

,

MNCH (Reg.), HPD

National Council for Hypnotherapy

Registered

Hypnotherapist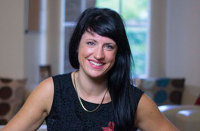 Overview
Hello and thanks for visiting my page.

How I can help you:

I want to support you to cultivate calm, confidence and clarity in your life and personal circumstances. Using tried and tested tools from the world of hypnosis, NLP and positive psychology, I can offer a range of solutions that can help you cope with life's challenges.

Having worked in the field of health and wellbeing for well over a decade, I have a great passion for helping others and it has been a privilege to see first hand the changes that people have made as they work towards what is right and appropriate for them.

How I work:

I have been described as calm and non judgmental in approach. I pride myself on my ability to connect with people and to support them through their personal challenges.

I work in many areas including:

stress and anxiety
phobias
improving performance, confidence and focus
exam stress
interview preparation
changing behaviours and getting rid of unwanted habits
developing self-worth
weight loss
fertility
hypnobirthing and birth preparation
Or maybe you simply want to feel better about yourself.

In addition to working with individual clients, I am delighted to be working with parents to support the development of self esteem and resilience in their children. You can find out more about the parent proven programme 'Sleeptalk' right here: https://www.elementshypnotherapy.com/what-is-sleeptalk-the-goulding-proc

If you would like to find out more about how we can work together, please get in touch for your complimentary consult. You can tell me a little bit about you and I can tell you more about about how I can support you to feel better.

Training, qualifications & experience:

I have been working in the area of training and personal development throughout my career having originally graduated with an honours degree in psychology. I built on this with further qualifications in teaching, training, professional coaching, clinical hypnotherapy and hypnobirthing.

Qualifications include:

B Psych (Hons)
MBS (Hons)
DipCah (Diploma in clinical hypnotherapy)
Hypnosis for fertility
Hypnosis for birth preparation (Hypnobirthing)
Certificate in professional coaching practice
Sleeptalk/ The Goulding process (building resilience in children)
I have also completed many additional training courses (CPD) in hypnosis and therapeutic practice to continuously update my skills. My practice is constantly evolving.
Specialisms

Addictive Behaviours
Anger Management
Breaking Unwanted Habits
Childbirth
Confidence & Self Esteem
Emotional Issues
Fertility Issues
Irritable Bowel Syndrome
Medical Issues
Obsessive Compulsive Disorder
Pain Control
Panic Attacks
Performance (Sports, Memory etc)
Phobias & Compulsions
Relationship, Sexual & Infertility Issues
Skin Disorders
Sleep Issues
Smoking Cessation
Stress & Anxiety
Tinnitus
Weight Issues
Working With Children