Jo Malseed

,

MNCH (Reg.), HPD

National Council for Hypnotherapy

Registered

Hypnotherapist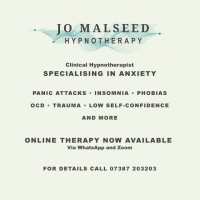 Overview
Jo Malseed PhD, HPD, DSFH, CPDMH, MNCH (Reg), PGDipDth.
In clinic, online, and over the telephone, I specialise in helping people leave behind largely anxiety and depression related conditions such as phobias, panic attacks, OCD, IBS, sleep problems, low self-confidence, chronic pain, weight issues and smoking, as well as helping clients with physical issues, such as chronic pain and fatigue.

I am a fully qualified Solution Focused and Clinical Hypnotherapist, having trained at the Clifton Practice in Bristol, recognised in Britain and internationally as a Centre of Excellence for Hypnotherapy; and I am based at Skin Deep Cosmetics Clinic and Academy, Treorchy, in the Rhondda Fawr.

Solution Focused Hypnotherapy uses practical, effective, well researched and up-to-date strategies to help you make lasting, positive changes in your life, in a relatively short period of time. As the name suggests, it focuses on solutions and forging a better future. If, however, you have experienced unpleasant events in the past which adversely impact on your life, we shall of course, if appropriate and if you wish, acknowledge they happened, and then enable you to 'put things to bed' on your terms, so that you can regain control and move forward. Crucially, please be reassured that you will never relive any trauma: that would be completely counterproductive. Once these issues have been resolved sufficiently, we shall then work on getting you from where you are to where you want to be.

I also teach self-hypnosis, which means clients have the added benefit of walking away with a life-long skill to help them take more control over their wellbeing.

So, if this sounds up your street and you want to change, then this is the course of action for you. Just give me a ring, and we'll start you on your way.


Specialisms

Addictive Behaviours
Breaking Unwanted Habits
Confidence & Self Esteem
Obsessive Compulsive Disorder
Pain Control
Panic Attacks
Phobias & Compulsions
Post Traumatic Stress
Sleep Issues
Stress & Anxiety
Weight Issues