Jerry Knight

,

MNCH (Reg.)

National Council for Hypnotherapy

Registered

Hypnotherapist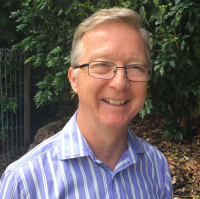 Overview
Jerry works exclusively online with clients in Australia and internationally.

- He specializes working with PTSD, particularly veterans.

In 2019 he talked at the World Hypnotherapy conference on his work with veterans.

Jerry has published articles in Aus, USA and UK on successfully treating Non Epileptic Attack Disorder (NEADS) using hypnotherapy.
Specialisms

Breaking Unwanted Habits
Confidence & Self Esteem
Eating Disorders
Emotional Issues
Fertility Issues
High Blood Pressure (Hypertension)
Irritable Bowel Syndrome
Panic Attacks
Performance (Sports, Memory etc)
Post Traumatic Stress
Stress & Anxiety
Tinnitus
Weight Issues
Working With Children