Julija Savina

,

MNCH (Reg.)

National Council for Hypnotherapy

Registered

Hypnotherapist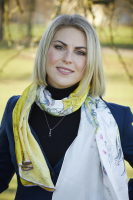 Overview
TAKE CONTROL OF YOUR LIFE

Don't let negative experiences Control your Life.
Are you looking to change the way you feel, think and behave?

In a nutshell I will help you to:

- Overcome your barriers
- Build your confidence and resilience
- Improve your sleep
- Reduce your stress levels
- Leave fears behind and become you

Make that change that you want to happen by working together!
Don't let negative experiences Control your life.

Hypnotherapy is about you.

It is your therapy session, and a place for you to be yourself. I create a safe and caring environment for you.

I can hear you because I listen.

I can understand you because I accept you.

I don't judge I can see the uniqueness in you.

I adopt to your needs, every session is individually tailored. "One size does not fit all."

I am passionate and enthusiastic in helping my clients make the best of themselves. I always have been. I previously worked in healthcare with clients with terminal illnesses and challenging behaviours. I fell in love with making a difference to people's lives, and the work rewarded me with incredible skills and great understanding of Mental Health.

I bring my experiences and skills together to help you to achieve your desired changes.Don't let negative experiences control your life, I can help you take back control of your life.

Every step you make is already a change.

Just simply contact me don't hesitate and see how I can help, 07760352842

It is always better to talk.

I offer free telephone consultation that allow you to express what you want to achieve from the therapy, and you get to know me. I offer sessions face to face and on zoom.

A couple of my favourite quotes:

"live your life with joy not as if it's a chore"

"Never be a prisoner of your past, it was just a lesson not a life sentence"

"Accept Challenges in order to make changes "

You can call me on 07760352842 or send me a message here.

Leeds/Roundhay

Achieve your goals with my help and improve your Mental Well-being!
"Take Control of your Life"


I am a qualified Clinical Hypnotherapist
Member of National Council for Hypnotherapy (NCH)
Mental Health First Aider (MHF)
Registered with (CNHC) Complementary & Natural Health Council.






Specialisms

Confidence & Self Esteem
Emotional Issues
Pain Control
Panic Attacks
Phobias & Compulsions
Post Traumatic Stress
Sleep Issues
Stress & Anxiety
Other Information
Special Offers
Emergency Services Discount
NHS Staff Discount