Lorraine McReight

,

MNCH (Acc.), HPD, NCH Supervisor, DBS

National Council for Hypnotherapy

Registered

Hypnotherapist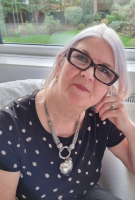 Overview
If you are experiencing anxiety, fluctuating moods or motivation level or brain fog, you are not alone. Covid has made this a challenging time for everyone and if your usual negative self-talk has become even louder and your dreams and goals feel impossible to contemplate right now, get in touch.

Using a blend of clinical hypnotherapy, CBT, conversational hypnosis, and rapid psychosensory techniques I'll work with you to reduce your stress, manage anxious thoughts and increase your optimism. If you're feeling overwhelmed or disenchanted don't suffer in silence, I'm here to help you restore your enthusiasm and confidence regardless of external events.

I offer a free phone or Zoom consultation, so please get in touch to arrange an initial chat so that we can have a chat and see if we're a 'good fit'. I offer appointments on weekdays and Saturdays.
Specialisms

Anger Management
Breaking Unwanted Habits
Childbirth
Confidence & Self Esteem
Emotional Issues
Irritable Bowel Syndrome
Medical Issues
Pain Control
Panic Attacks
Performance (Sports, Memory etc)
Phobias & Compulsions
Post Traumatic Stress
Sleep Issues
Stress & Anxiety
Tinnitus
Weight Issues