Dominika Chalder

,

MNCH (Reg.), HPD

National Council for Hypnotherapy

Registered

Hypnotherapist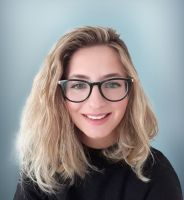 Overview
"Dominika brings a calm, positive and non-judgemental attitude as well as an insightful mind to guide her clients through the process of betterment and self-discovery. She is focused on what's right with people rather than what's wrong."

Hello, my name is Dominika Chalder. I imagine you've found your way here because you're looking to make changes in your life. Not feeling yourself lately? Feeling anxious, stuck, confused or sad? I might be able to help you.

My experience of dealing with stress and anxiety allowed me to develop a deep understanding of the impacts of our modern way of living and working on our mental, emotional and physical well-being. Through my career, I gained insights into the challenges that many professionals face today – chronic stress, fear of failure, anxiety, imposter syndrome, poor boundaries, depression, physical exhaustion and burnout.

I'm registered Clinical Hypnotherapist, Mindfulness Teacher and Trainee Integrative Psychotherapist (under the UK Council for Psychotherapy – UKCP) and also hold a Doctoral Degree (PhD) in Environmental Sciences from University College Dublin.

My scientific background (PhD) gives me the ability to skillfully analyse and bring out themes that provide insights and change of perspective and behaviours. This combined with a compassionate, person-centred approach developed by over ten years of personal Mindfulness Zen practice allows me to be present and focused on my clients' requirements.

I have completed accredited training in the therapeutic field that meets National Occupational Standards (NOS). I am in ongoing clinical supervision and belong to well-recognised professional associations such as the National Council for Psychotherapy, the National Society of Talking Therapies and the National Council for Hypnotherapy. These professional bodies require members to adhere to their Code of Ethics and have a structured complaints procedure. I am currently working in clinical practice towards full accreditation under the UK Council for Psychotherapy (UKCP).


Specialisms

Addictive Behaviours
Anger Management
Breaking Unwanted Habits
Confidence & Self Esteem
Emotional Issues
High Blood Pressure (Hypertension)
Irritable Bowel Syndrome
Obsessive Compulsive Disorder
Performance (Sports, Memory etc)
Phobias & Compulsions
Post Traumatic Stress
Sleep Issues
Smoking Cessation
Stress & Anxiety
Weight Issues