Tracey Jesney

,

MNCH (Reg.), HPD

National Council for Hypnotherapy

Registered

Hypnotherapist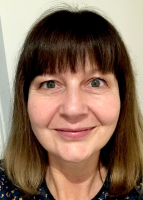 Overview
Welcome and thank you for for visiting my profile.

I practice Solution Focused Hypnotherapy, a combination of two highly effective therapeutic practices – psychotherapy (talking therapy) and clinical hypnosis.

The therapy is derived from Solution Focused Brief Therapy (SFBT * also used by the NSPCC), Cognitive Behavioural Therapy (CBT) and Neurolinguistic Programming (NLP) and is proven to be an effective treatment and aid for:

Anxiety disorders
Poor sleep
Stress
Phobias (simple and complex)
Low mood
Calm Childbirth
IBS (Gut Directed Hypnotherapy)
Lack of confidence & low self-esteem
Pain management
Palliative Support
Chronic Health Conditions

Using up to date, brain based and well researched techniques, I can help you achieve your goals, attain a balanced and more positive mindset and working together, facilitate the changes that will help you to live life optimally.

Seeing my clients reclaim their perspective and positivity is incredibly rewarding and giving them the tools to stay that way even more so. As the therapy is solution and future focused, positive change can happen comparatively quickly too.

I practice both on Zoom and in a private therapy room on the High Street in Stockbridge with free parking nearby.

I trained with Clifton Practice Hypnotherapy Training school, a recognised Centre of Excellence for Hypnotherapy in the UK where I obtained my Diploma in Solution Focused Hypnotherapy and the Hypnotherapy Practitioner Diploma (HPD). Subsequently, I attained my Diploma in Medical Hypnotherapy from the Clinical Hypnotherapy School.

Please get in touch if you'd like to find out more about how I work and most importantly, how I can help you.



Specialisms

Anger Management
Breaking Unwanted Habits
Confidence & Self Esteem
Emotional Issues
Irritable Bowel Syndrome
Medical Issues
Obsessive Compulsive Disorder
Pain Control
Panic Attacks
Performance (Sports, Memory etc)
Phobias & Compulsions
Post Traumatic Stress
Sleep Issues
Stress & Anxiety
Working With Children
Other Information
Special Offers
Emergency Services Discount
NHS Staff Discount
Student Discount