Kathy Carter, Arrive Therapy

,

MNCH (Reg.), HPD

National Council for Hypnotherapy

Registered

Hypnotherapist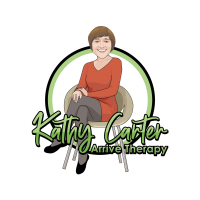 Overview
I'm Kathy; I practice a holistic form of cognitive behavioural hypnotherapy, and am neurodiversity and gender-diversity affirming. The key therapeutic areas that I tend to focus on are as follows:

1) Hypnotherapy for generalised anxiety, and anxiety disorders including social anxiety. I see anxiety as a physical manifestation of emotions – anxiety is usually fear based, and often shows up as worry about the future. As a polyvagal-affirming therapist, I like to explain to clients that our nervous system governs how we get 'stuck' in anxiety.

2) Issues of personal confidence, assertiveness, self-esteem and personal autonomy. All of these aspects tie in with each other. Our limiting beliefs, self talk, past experiences and attachment styles, issues of trauma, anxiety or low mood, dysregulation of the nervous system, co-dependency and a myriad of other issues all play into issues relating to how we see ourselves. Minority stress, which members of marginalised groups experience because of prejudice and discrimination, is a special interest.

3) Hypno-CBT for phobias, to help clients face their fears. Phobias are anxiety disorders, so we can look at what's triggering the phobias now, what may have caused them, what you're doing to maintain the fear, and use strategies to either overcome them or manage them.

4) Hypnotherapy as an aid in pain management, and to help psychosomatic issues. There are theories that pain shows up as unresolved emotional trauma, and that pain and fear share the same brain circuitry, in terms of memories and forward projections of what to expect. Pain is nerve circuitry, cells, emotions and memory all clubbing together to create a response to perceived danger! Hypno-CBT can help with pain management and also psychosomatic issues.

5) Cognitive behavioural hypnotherapy to help autistic people and their families live their best lives. Key areas in which cognitive behavioural hypnotherapy could help an autistic person include issues such as self-efficacy, confidence, relaxation, self-esteem and social anxiety. I have extensive familial and personal experience with neurodivergence, and consider myself to be a neurodiversity-affirming therapist. Autistic people in particular, whether diagnosed or not, are often under employed, under valued and marginalised, and often experience trauma and issues of self esteem and anxiety.

There can be concerns about how CBT type theories can work for autistic people, e.g. concerning over thinking; developing a good working alliance with a therapist; difficulties with interoception, or our 'body feelings' and awareness of sensations and emotions; cognitive inflexibility; the impact of trauma; and also a possible need for adaptions to autists' therapy. You can find more information about this at my blog: arrivetherapy.co.uk/hypno-cbt-blog

(I also work as a Hypno-CBT therapist for the global social enterprise, 'Thriving Autistic'.)

6) PLUS, I offer hypnotherapy for mindset mastery within business, and Hypno-CBT for unwanted habits that may be problematic.

Qualifications, Training & Experience: Diploma in Cognitive Behavioural Hypnotherapy. I trained with the UK's College of Hypnosis and Hypnotherapy.

I also hold qualifications in counselling, autism and online / telehealth therapy, and undergo extensive CPD in the fields of polyvagal theory and other associated fields.

Fees and availability
Face-to-face hypnotherapy is £75 per session.
Online / telehealth hypnotherapy is £65 per session.
Commonly, Wednesday and Friday daytimes are preferred – weekends considered. (GMT time zone for tele-health therapy).

Specialisms

Breaking Unwanted Habits
Confidence & Self Esteem
Phobias & Compulsions
Stress & Anxiety