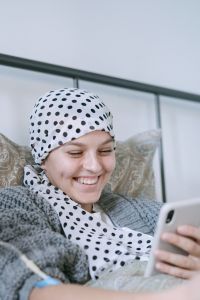 1 in 2 people in the UK will develop a form of cancer in their lifetime. Every year over 360, 000 people receive a cancer diagnosis and over 170,000 people sadly pass away. The initial diagnosis can be devastating. It affects not only the person with the cancer, but their family and carers.  Treatment brings its own set of complications with cancer interventions often being particularly debilitating.  In the longer term, some people will face a reoccurrence of cancer, necessitating further treatment.  At each phase of a cancer journey, people need support, information and resources.
Clinical hypnotherapy has been described in medical literature to relieve a broad spectrum of symptoms, including treatment of common symptoms associated with cancer care. Hypnotherapy has been specifically employed in the palliative care of cancer patients to reduce symptoms associated with radiation and chemotherapy, such as pain, nausea, fatigue, hot flashes, and sleep dysfunction. In the NHS, over 100 breast cancer clinics recommend hypnotherapy as a resource for their patients. Cancer Research UK recommends hypnotherapy to cancer patients as a supportive treatment alongside medical intervention.
Hypnotherapy can relieve pain associated with cancer or cancer treatment. Hypnosis provides a safe and efficacious supplement to pharmaceutical management of cancer pain. A study of breast cancer patients found that those assigned to the clinical hypnotherapy group demonstrated significantly less pain than patients who were in the control group. Another study of advanced-stage cancer patients with malignant bone disease was conducted by randomising patients to receive either hypnotherapy or supportive attention (e.g. encouragement, active listening). Results showed the hypnosis intervention group had a significant overall decrease in pain.
Clinical hypnosis is effective for the relief of nausea and vomiting secondary to chemotherapy. In a randomised study of the efficacy of hypnosis in reducing nausea and vomiting in children receiving chemotherapy, researchers found children participating in hypnosis had less anticipatory nausea and vomiting and less overall vomiting compared with controls who did not undergo hypnosis. This finding was replicated in a later study also demonstrating that patients using clinical hypnosis showed a reduced need for antiemetic medication. These studies have been replicated a number of times, and it is believed that hypnotherapy is more effective than standard CBT type therapies in this area.
Literature suggests that fatigue can affect 60% to 90% of patients receiving chemotherapy or radiation therapy. Despite the prevalence of cancer-related fatigue, there are very few effective treatment options. This condition is managed through education of patients and caregivers about current evidence-based strategies to reduce fatigue, nonpharmacological interventions including exercise, and pharmacological therapies. Initial studies show promising results for breast cancer patients who received a combination of CBT and hypnotherapy to aid them in managing their fatigue symptoms.
Receiving a cancer diagnosis is difficult, so it's important to know that there are therapies available that can help you manage both the condition and your experience of treatment. Working with a hypnotherapist can help you address the emotional issues, supporting you through the period of diagnosis, treatment and beyond.  The NHS recognises that it often helps to talk about your feelings and other difficulties with a trained counsellor or therapist.
The National Council for Hypnotherapy is the UK's largest professional association for hypnotherapists with close to 2,000 fully trained and insured hypnotherapists registered as members. To find a therapist near you, use their therapist finder.
Photo by Ivan Samkov from Pexels