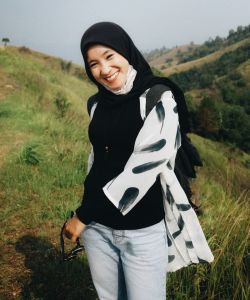 At any moment in time in the UK around 20% of the population is experiencing anxiety or depression. Anxiety disorders and depression aren't just about everyday worries that come and go, or momentary funks; they can seriously impact your day-to-day life when it comes to school, work, and personal relationships. Mental health conditions can feel completely overwhelming when you're in the middle of a tough patch.
The majority of people who experience stress and anxiety don't receive proper treatment. Only a small percentage of people either seek help or are referred through to effective support. Many of those people are offered prescription anti-anxiety or antidepressants as a first line treatment as counselling and CBT services via the NHS are overwhelmed.
So what practical steps can you take to better manage your mental health?  The first step is to get comfortable thinking about and talking about your inner experiences. Everyone experiences anxiety and periods where they are down. Rather than trying to fight negative feelings when they show up, take a moment to see what it is trying to bring to your attention. Often you'll notice that you've let a certain situation get out of hand or pressure build up, and there's concrete steps that you can take that will help you feel better. You'll also be better placed to notice if there's no real cause to your feelings and that you're not able to shift them yourself.
Make a pact with yourself that you're really going to engage in self-care. Self-care isn't all about instagramable bubble baths and 'me time'. It's about really taking care of yourself. Make sure that you are maintaining social support and talking to other people to get different points of view.  Eat well and make sure you're getting enough sleep and exercise. Sit down and do those life admin tasks that you've been putting off and let go of the stress of them hanging over your head. When you give yourself time and attention, you improve your resilience and stress management.
Sometimes you can be doing all the 'right' things and still feel like you're struggling with your mental health. Talking therapies have been proven to help treat anxieties, stress and depression. Finding a therapist who you connect with is crucial.  A good fit is someone with whom you feel comfortable and trust who is knowledgeable about the evidence-based treatment of anxiety disorders.
Working with a hypnotherapist may help you feel more confident and more at ease about things which have previously been challenging for you says the National Council for Hypnotherapy. A qualified clinical hypnotherapist can assist individuals in learning to better understand anxiety and change their relationship to their anxious thoughts and feelings.
Click here to access the NCH directory, with over 2,000 therapists all around the UK there's sure to be someone to help close to you.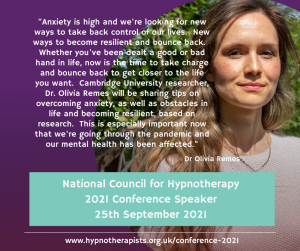 Over the past decade, Dr. Olivia Remes has developed a system of coping strategies that help people thrive and flourish in spite of obstacles; attain mental wellbeing; and overcome anxiety, depression, and stress. All of this work has gone into her book, The Instant Mood Fix, which contains 50 strategies for anxiety, stress, indecision, procrastination and common mindsets or patterns holding people back. She has delivered seminars and talks on mental wellbeing to organisations around the world. Olivia will be speaking at the NCH Conference on Saturday 25th September about the research on anxiety and becoming resilient,
In this talk, Dr. Olivia Remes, will reveal the key to achieving balance in life, and will teach the audience actionable strategies for taking better care of ourselves when the stress gets to be too much – it will show how you can feel in greater control and get closer to the life you want.
To book your ticket: https://www.hypnotherapists.org.uk/conference-2021/
Photo by Padli Pradana from Pexels