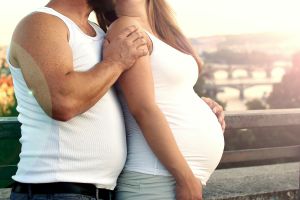 EastEnders star James Farrar's wife Ali has just delivered their first child using hypnobirthing techniques. Hypnobirthing has become increasing popular in the last 10 years, with stars such as Angelina Jolie, Jessica Alba and Kate Middleton reportedly using hypnobirthing techniques.
Hypnobirthing has a lot of evidence pointing towards it being safe and effective, reducing the time of labour and delivery, decreasing the need for pain relief and improving feelings of maternal wellbeing and satisfaction.
Babies that are born to mums that have practiced hypnosis and deep relaxation techniques during labour may also have better neonatal outcomes including being calmer, sleeping and feeding better.
The NHS is increasingly recommending hypnobirthing, with several health trusts now offer hypnobirthing as standard to expectant mothers. Every year more are training their midwives to use the techniques in the delivery suites.
With over 2000 therapists around the UK, the National Council for Hypnotherapy (NCH) has many hypnobirthing specialists on its therapist register. Hypnosis has been used as a technique to support labour for many years, with the written records dating back to the mid 1800s.
The expectation of a painful birth creates tension the pregnant mother and this, in turn, creates pain, often happens at a subconscious, primal level. During hypnobirthing classes you can learn to activate the parasympathetic nervous system, signalling to your body that everything is safe, thereby allowing your body to relax and allow the birthing process to happen without a struggle.
As Hypnotherapy is hands-off and non-invasive, it is one of the most relaxing, enjoyable and safe therapies to use during pregnancy and birth. Many mothers who have used it during pregnancy and birth say they sleep much better and are much calmer during pregnancy.
It is important you choose a programme you feel comfortable with, and a hypnotherapist with whom you are able to talk openly. Some fears relating to pregnancy and birth can be intimate and personal; it is crucial that you feel comfortable and relaxed so it is easier to face and resolve your fears.
If you have any further questions about hypnobirthing, please contact your local hypnobirthing specialist in our NCH Hypnotherapy Directory.
Picture from jeshoots.com/