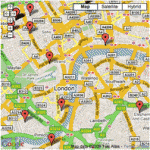 To make sure potential clients can easily find you, please make sure you update your practice listing(s) to include your full practice address and ensure the google map shows your correct location.
If you have multiple practice locations, you can order additional listings from your account page.
IMPORTANT: It is your position on the map which determines your location in a search, so make sure that your 'pin' is in the right place on the map.
You can do this by entering your address, then clicking the 'Find By Address' button to set your position on the map. You can then fine tune as required by dragging the pin on the map.