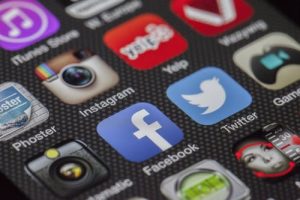 Government ministers and Simon Stevens, the chief executive of the NHS have called for social media companies such as Snapchat and Instagram to limit the amount of time that young people spend on their platforms.  These calls for reform came after a study tracking 11,000 14-year-olds (the Millennium Cohort Study) found that almost 40% of girls who spend 5 hours or longer on social media a day are depressed. Stevens called for the social media companies to have an extra tax levied on them to help ease the strain on the already overloaded NHS system.
Of course, it's a chicken and egg argument, what came first the depression, low self-esteem and dissatisfaction with their body or the excessive hours spent on social media. Experts say that despite there not being a causal link, in their opinion evidence points in that direction.
Last week Facebook faced new allegations that it paid teenagers to download an app onto their phones which tracked not only their social media useage, but their private emails. Apple said that Facebook abused a loophole in its AppStore to bypass strict data collection rules.  Barbara Keeley, the shadow minister for mental health, said social media firms should be forced to adopt a new duty of care to protect young users.
Greater amounts of daily screen time are associated with more insomnia symptoms and shorter sleep duration among teens. The sleep deprivation associated with social messaging, web surfing and TV/movie watching is linked to depressive symptoms. Of course, it's too simplistic to lay the blame for the rise in mental health problems amongst teenage girls at the doors of social media.
There is a complex interplay between the environment, genes and what's happening in a person's inner world that give rise to mental health problems.  However, early intervention is very important when assessing the long term outcomes for teens with mental health issues and with NHS resources stretched, it's easy for these girls to slip through the cracks.
If you think your child is depressed, stressed or having other mental health problems it is important to find them someone they can talk to.  The National Council for Hypnotherapy (NCH) has nearly 2000 qualified therapists from the UK as members.  This means they are well placed to recommend someone near you who specialises working with children and teenagers.
Clinical hypnotherapy takes a holistic approach, rather than just treating symptoms. The underlying emotions that feed the anxiety or depression are addressed and effective hypnotherapy can bring fast relief compared to other forms of therapy.  Use the NCH directory to find a therapist near you.