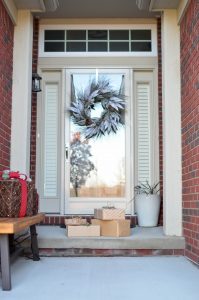 There is a lot of pressure to get into the holiday spirit, but the festive season isn't a happy time for everyone.  There are many members in the community who spend the holidays feeling alone and isolated or worrying about money as they feel the pressure to buy gifts for their extended family. The international movement of Buy Nothing Day encourages us to switch the focus from commercialism towards community.
Buy Nothing Day was started in 1992 as a backlash against the annual Black Friday sales that happen in America the day after Thanksgiving (this year it's the 29th of November) when retailers slash the prices of goods and shoppers embark upon a frenzy of spending.  This 'tradition' has migrated to the UK after Amazon introduced it to their online sales in 2010.
The National Council for Hypnotherapy (NCH) notes that 1 in 7 people will be struggling with heightened levels of stress and anxiety at any time, and the UK mental health charity Mind reports that it is even more common to struggle during the festive season for a wide range of reasons.
The challenge laid down by the Buy Nothing movement to 'stop shopping, start living' can be exactly what you need if you're feeling stressed, isolated or disconnected by the start of Christmas festivities. It doesn't really matter why you're in a funk over the festive season, by taking the advice of 'start living' you can make changes that will help you change the way you're feeling.  What you choose to do will of course vary depending on your personal circumstances or interests but a good place to start could be investigating local volunteering opportunities. Articles discussing the day note that "[d]oing good for others is going to make you feel a whole lot better in the long run than buying stuff just because it's on sale."
Did you know that volunteering can boost both your mental and physical health?
Last year the Trussel Trust, Britain's largest food bank, released figures showing that demand for their services was increasing year by year with December being the busiest month for requests for food supplies. With this increased demand for services they also have a greater need for volunteers to help sort and deliver donations.  Many other community organisations also need more volunteers over the Christmas period as they step up their community services.
Some people will benefit from additional support throughout the holiday season to help them manage their anxiety, stress and feelings of isolation.  Talking therapies have been proven to help relieve anxieties, stress and depression and the NCH has around 1,800 qualified therapists across the UK who can provide the right treatment.