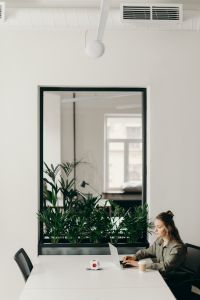 Many people are noticing an upswing in anxiety or depression as we head into our third week of lockdown in the UK.  We all know that social interaction and connection is one of the strongest predictors of mental wellbeing, yet we've now been told to do the exact opposite: to physically distance ourselves, even from our families and closest friends, if they should live apart from us.
This enforced isolation isn't just affecting those with pre-existing conditions like anxiety, depression and OCD (obsessive compulsive disorder), or the elderly who regularly report feeling lonely, but large swathes of the general population are experiencing new levels of loneliness and helplessness.
A survey taken during Italy's first week of lockdown found that 93% of respondents said they felt at least a little anxious, while 42% described a distinct drop in their mood and 28% reported that they were not sleeping well.
The medical journal Lancet recently released a report on the psychological impacts of quarantine, which happened when people were separated or had their movement restricted after being exposed to contagious diseases such as SARS. They found evidence that people experienced a range of psychological symptoms, both during and after the period of enforced isolation. These symptoms ranged from insomnia, anger, and emotional exhaustion to depression and signs of post-traumatic stress.
Their recommendation is to activate your social network.  This is a message that has been echoed repeatedly in alternative media.  Social distancing should be renamed as 'physical distancing' as it is more vital than ever to keep your social networks and outlets for support strong.
In times like these, where a lot of things feel uncertain, perhaps the best way forward is to to focus our thinking on the things that we have some control over.  We can choose to switch off the TV and take a step away from the news, we can put our energy and attention onto things that keep us grounded and focused.  We can reach out and build stronger connections within our families and wider communities, and we can spend our time spreading good news.
The National Council for Hypnotherapy (NCH) writes that  "the symptoms of anxiety correlate with the stress response or 'fight-or-flight'. This primal response protects the individual against threats in their environment, where danger triggers a rush of blood to the arms and legs so that the person can fight or run away. This adrenalin response causes the heart to beat faster, pumping oxygen around the body to those parts that are needed for protection. A person experiencing anxiety maybe hypervigilant, unable to calm down or focus".
If you're feeling stressed and anxious because of the pandemic, and feel as though the social support you're able to receive from your friends and family is not enough, then some sessions with a hypnotherapist may be beneficial.
The NCH has a register of nearly 2,000 therapists from all over the UK, and many of them have moved their practice online so they can continue to help people while respecting government advice about staying physically distanced.
You can find a therapist who is best suited to help you by using the therapist finder on the website.