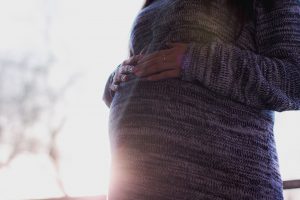 The Duchess of Cambridge, Kate Middleton recently appeared on a podcast discussing her experiences with pregnancy and childbirth.  During this interview she opened up about struggling with hyperemesis gravidarum or extreme morning sickness during her pregnancies.  Morning sickness is a common in pregnant women, caused by an imbalance of hormones due to the pregnancy, it usually occurs within the first trimester of pregnancy. Anyone who is pregnant can experience morning sickness to some degree and there is little that can be done to predict who will have it or ways of alleviating it.
In Kate Middleton's case her morning sickness was so severe in each of her pregnancies that she ran the risk of becoming seriously dehydrated and needed saline drips to rehydrate.
As effective treatments are limited due to the developing foetus, the Duchess turned to hypnotherapy to help her manage her symptoms saying that she recognised that her morning sickness was not just an issue for herself but also for her loved ones as she struggled to eat the foods that she knew were most suitable for her to eat during her pregnancy. Once she realised how effective hypnotherapy was for helping her combat her morning sickness she realised that it was also incredibly effective for childbirth.
"It was just something I wanted to do for myself. I saw the power of it, the meditation and the deep breathing and things like that, that they teach you in hypnobirthing, when I was really sick, and actually I realised that this was something I could take control of during labour."
Hypnobirthing is recommended by both the NCT (the UK's largest charity for parents) and the NHS. Several health trusts now offer hypnobirthing as standard to expectant mothers and more are training their midwives to use the techniques in the delivery suites. The NCT conducted a review of studies into hypnobirthing and found that the use of hypnosis during childbirth lead to shorter labour, less intervention including fewer epidurals and lower pain relief and that it was strongly associated with higher levels of maternal wellbeing and satisfaction.
With 1800 therapists around the UK, the NCH has many hypnobirthing specialists on its therapist register. Hypnosis has been used as a technique to support labour for many years, with the written records dating back to the mid 1800s. The expectation of a painful birth creates tension the pregnant mother and this, in turn, creates pain, often happens at a subconscious, primal level. During hypnobirthing classes you can learn to activate the parasympathetic nervous system, signalling to your body that everything is safe, thereby allowing your body to relax and allow the birthing process to happen without a struggle.
If you'd like more information about hypnotherapy can help you reduce morning sickness or experience a better birth, please get in touch with one of our many qualified and insured hypnobirthing experts by using the therapist finder.