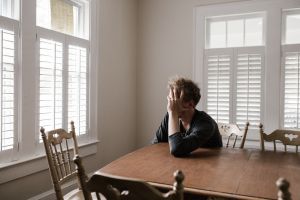 The Princes Trust's long-running survey of young people's happiness and confidence has returned its worst findings in its 12-year history. 50% of the young people interviewed said that the current state of the UK has negatively affected their mental health. More than half said they currently always or often felt anxious, rising to 64% among those not in work, education or training. Half of 16-25 year-olds said their mental health had worsened since the start of the pandemic.
In October last year, we wrote about the levels of stress, anxiety and depression in university students who were trapped in their halls of residence, lured back to university campuses with unfilled promises of support. SAGE (the government's scientific advisers) have repeatedly noted that while Covid poses a less direct risk to younger people's physical health, the pandemic is wreaking havoc on their mental health as well as damaging their economic and social prospects.
These findings come as up to 2/3 of youth organisations in England face closure due to funding issues, further compounding the issues of isolation, education upheaval and economic uncertainty for this generation of youth.
The first months of the year are known to be tough for people's mental health. Students returning to study are known to face extra challenges at this time in a regular year as their academic workload increases. If you're noticing your child or young adult's mood starting to shift, it's important to take action early. Encouraging them to keep to a healthy routine as well as finding ways to support them socialising with friends and peers can make a noticeable difference to stress and anxiety.
However, if their mood continues to decline, it can be helpful to seek professional help. Unlike traditional talk therapies, hypnotherapy can deliver fast and targeted results, helping young people to manage stress and anxiety more effectively.
Working with a hypnotherapist can support them in learning new skills and techniques to better manage their emotions as well as providing a safe and non-judgemental space to talk about the things that are concerning them.
The NCH has a register of over 2,000 therapists from all over the UK, many of whom are working online so they are accessible no matter where you are.
You can find a therapist who is best suited to help by using the therapist finder on the website.
Photo by Andrew Neel from Pexels