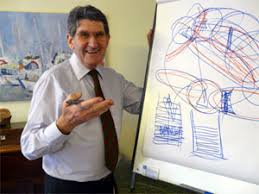 1 in 4 adults will suffer from some form of mental disorder each year, yet it is still hard for individuals to get the right support during these times. Often feelings of hopelessness and loneliness start to set in and anxiety or stress are an uncomfortable topic for the vast majority of people out there yet these feelings are a natural occurrence.
Solution Focused Therapies are fast becoming the treatment of choice for a society beset by pressures and a world in which people increasingly feel unable to cope.  David Newton HPD DHP SFBT(Hyp) SFBT Sup(Hyp) FAPHP MNCH MNCP SHS SQHP Sup Hyp, Hypnotherapist and Psychotherapist, is Chairman and Trustee of AfSFH and Director and Senior Course Lecturer of CPHT and is the senior practitioner of The Clifton Practice which he co-founded in 1995 and which has developed into a leading multi-discipline clinic.
He can be described as the father of present day Solution Focused Hypnotherapy. David will be speaking at the National Council for Hypnotherapy 2018 Conference in Birmingham on Saturday 23rd June about Solution Focused interventions in the treatment of anxiety.
Steve de Shazer's first contact with psychotherapy was Erickson in nature and it can perhaps be thought that from the outset that Brief Solution Focused Therapy (BSFT), created by by Steve de Shazer and Insoo Kim Berg, was rooted in hypnotherapeutic techniques.
The basic tenets of SFBT are well known and are different in many ways from traditional forms of treatment. It is a competency based model and the focus is on the clients' desired future rather than on past problems or current conflicts. It assumes that no problems happen all the time, there are exceptions and that small changes can lead to large increments of change. The setting of specific, concrete and realistic goals is an important component.
In SFBT it is the client that sets the goals. Once formulated the therapist will use a number of specific responding and questioning techniques to assist the client construct the steps that may be required to reach the 'preferred future'. Solution Focused Hypnotherapists note Steve de Shazer's often repeated assertion that solution work is "the same whatever problem the client brings".
Solution Focused Hypnotherapy does not ask the client to re-visit past traumas or move at a pace they are not comfortable with, instead it uses a combination of techniques from psychotherapy and neuroscience to bring joy back into a person's life so they can find meaning and happiness in their work and play.
The 2018 NCH conference will be held at the Birmingham Council House Banqueting Suite on Saturday 23rd June from 9.30 AM to 5.00 PM. There are still a limited number of discounted tickets available at a cost of ₤109; you can buy a ticket by clicking here.