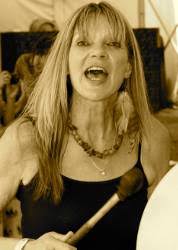 In the Western world, it's common to be uninformed when we encounter the word shamanism; perhaps we may have a mental image of a costumed tribal person dancing around a fire, mysterious rituals incorporating chanting and drumming, but we don't really know what their purpose is. 
Shamans are healers, distinguished by their ability to achieve visionary states of consciousness where they access hidden, inner worlds, bringing back wisdom and healing for their clients.  It is this ability to connect with the inner worlds of things hidden and the beings that reside there that differentiate shamans from other religious practitioners; their connection to the spirit world is used mostly to provide healing.
Christa Mackinnon is a social psychologist, family counsellor, clinical hypnotherapist and group facilitator who specialises in combining shamanic healing with traditional therapy. Christa lectures internationally in psychology and hypnotherapy, and holds an Honorary Fellowship at the University of Exeter, Medical School, where she teaches special study units in clinical hypnosis and trauma. She has worked internationally as a therapist for over 20 years, specialising in complex trauma, child abuse, PTSD and related mental/emotional issues.  In parallel with her work as a trauma specialist, she spent 12 years as the South West course director and a senior lecturer for the London College of Clinical Hypnosis, which trains Hypnotherapists to MSc level in partnership with a London University. 
Christa's interest in consciousness, altered states of perception and spirituality has led her to apprentice to indigenous shamans in South America and to train and work with spiritual and shamanic teachers in many countries. 10 years ago Christa changed the focus of her therapeutic work, incorporating psycho-spiritual shamanic approaches into her work as a trainer, offering courses for therapeutic professionals on the subject. The publication of her first book 'Shamanism and Spirituality in Therapeutic Practice', which followed from this work, proved to be groundbreaking within the fields of psychology and therapy.
The author of three books, Christa combines her vast therapeutic and psychological professional knowledge with the indigenous and contemporary shamanic teachings she received over the last 20 years.  She believes that traditional and contemporary shamanic ways, teachings and techniques, adapted to contemporary life, offer us a rich repertoire to develop and to explore, connect with, and utilise the realm of spirit in everyday life, giving it meaning and purpose. When combined with contemporary therapeutic and coaching approaches, shamanic rituals allow participants to shift and expand their consciousness; when consciousness is expanded clients can connect with, and utilise realms beyond their everyday experience for learning, guidance, healing, development, creativity and finding meaning, purpose and joy.
The 2018 NCH conference will be held at the Birmingham Council House Banqueting Suite on Saturday 23rd June from 9.30 AM to 5.00 PM. There are still a limited number of discounted tickets available at a cost of ₤109; you can buy a ticket by clicking here.