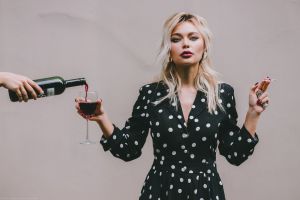 Dry January – where you abstain from drinking for a month – is becoming increasingly popular. As our thoughts turn towards New Year's Resolutions as the final hours of the year count down, it can be a good time to reflect on how much you've been drinking lately.
Many clinicians around the world have noted that substance use in general has risen since the beginning of the pandemic, as people seek to self-medicate or mitigate boredom. The goal of Dry January isn't to have people stop drinking forever; it aims to have people explore their relationship to alcohol and have some time and space to learn new habits surrounding socialising and stress management. A 2016 study on more than 800 adults in the United Kingdom who undertook a Dry January found that most participants drank less and got drunk less frequently afterward.
Last year 130,000 people officially signed up to complete Dry January, with many others taking part unofficially. If you're interested in taking part, and want to prep yourself as much as possible to succeed there are a few things that you can do which will help support you in achieving your goals.
Tell people that you're taking part.  Research shows that if you engage your social support network and make a pledge to them, you're more likely to achieve your goal.  Rather than going it alone, it can be helpful to get support from your friends and family.
Remove cues to drink. Perhaps you open the fridge door and there's a row of clinking beer bottles or your gin bottle sits in the middle of your kitchen table. As the adage goes, out of sight is out of mind, so find somewhere a little less obvious to store your drinks for the next month.
Put some plans in place for alternate ways to unwind. Instead of going to the pub for a drink on a Friday night, why not arrange to have dinner with friends or go see a movie? Small changes to what you do can really help you break the automatic patterns that lead to drinking.
Try finding new friends and new activities during the month. Clubs which have sobriety at their centre such as  Hello Sunday Morning,  Club Soda, Team Sober UK and Sober Girl Society have reported large increases in memberships during the pandemic as people explore new ways to socialise without drinking or while moderating their drinking.
Even with clubs and external support, some people may find they struggle with cravings or struggle to maintain alcohol-free days. Hypnotherapy has had proven success in helping clients break unwanted habits or addictions like excessive drinking.
"The good news," says the National Council for Hypnotherapy (NCH), "is that you are in control, you can change how you react to certain situations, and you can protect yourself in ways that are healthy and which allow you succeed and grow stronger in body and mind. You just need to know how to change it, and to believe you can."
To find a hypnotherapist near you who can help you change your relationship with alcohol, visit the NCH's hypnotherapy directory. As the UK's largest hypnotherapy professional organisation, they have over 2000 members, many of whom specialise in the areas of habit modification and addiction.
Photo by Maria Orlova from Pexels