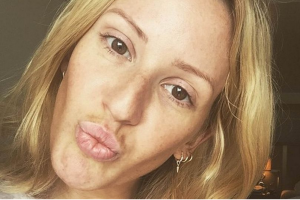 Ellie Goulding, an English singer and songwriter has recently opened up about her struggles with anxiety and panic following the birth of her son Arthur. Ellie has used her Instagram account as a personal platform to discuss her emotions, writing that she'd had the 'very best' year after becoming a mum, releasing a book, and performing for the Duke and Duchess of Cambridge but said she's struggling with a 'kind of panic I didn't even know existed'.
According to posts made by Ellie, she's been living with anxiety for a long time and it's shaped the choices that she has made about her career and her life.  Mental health difficulties are extremely common. Almost 25% of people will experience a mental health problem of some kind over the course of a year and the impact and severity can change over time.
Only 1 in 8 people who are struggling with their mental health will reach out and get help. The pandemic and resulting squeeze on NHS services has meant that fewer people than normal are able to access help.
If you're experiencing anxiety or other mental health difficulties, there are a range things that you can do to support yourself. The NHS advises that keeping to a structured routine which includes gentle exercise, regular sleep ad nutritious food can be helpful when you're feeling anxious or depressed. Give yourself permission to do something that's just for enjoyment. Perhaps taking a long walk helps you feel calmer and more grounded or listening to your favourite music lightens your mood. Give yourself permission to experiment and find something that helps give you a boost.
Connect with friends and family, rather than isolating yourself or trying to 'go it alone'. Sometimes when we are feeling sad, anxious or struggling, we want to keep it all inside so we don't burden other people. Opening up and sharing what you're feeling can help you make a shift in your thought patterns. Getting support from people around you may start other positive changes elsewhere in your life.
If you're struggling with anxiety or depression and feeling as though things are unmanageable it can be easy to think that there's nothing that will help. A few sessions with a hypnotherapist may enable you to achieve a different perspective. When you attend sessions with a hypnotherapist you'll receive targeted and compassionate help with the issues that you're struggling with as well as be taught skills that will help you in the future.
You may find that the change is subtle, but pervasive. By working with your subconscious mind you'll notice positive shifts in the way you think and feel about situations that you previously found stressful or avoided. You can expect to feel calmer, more confident and less stressed.
You can find a fully-trained, accredited and insured hypnotherapist near you by using the NCH directory. With over 2,000 trained and accredited therapists around the UK there's sure to be someone near you who can assist.