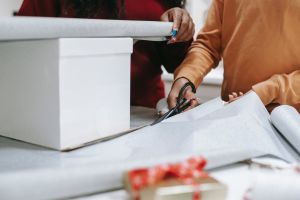 Christmas creep.  The phenomena where Christmas decorations and foods start to be displayed in the shops earlier every year.  Perhaps you love Christmas and the sight of Christmas displays fills you with happiness, but most people see the shelves of gift suggestions and start to feel uncomfortably stressed.
The stress of the holiday season used to start in early December and then builds until it peaks on Christmas Day.  But this year Christmas goods have been in the shops for what feels like months, we have been bombarded by sales and promotions. Retailers are banking on longer display times to boost sales.
In a regular year, holiday season provokes feelings of inadequacy and worry.  A 2018 poll found that 3/4 of people in Ireland were worried – mostly about money and family relationships.  With the cost of living crisis biting deeper daily, this year we can only imagine that stress levels are higher. With people already choosing between heating and eating, the stress of being required to provide Christmas presents and food can start to feel overwhelming.
Can you imagine how different Christmas would be if you were able to approach it stress free?  Hypnotherapy for stress management can help you gain a completely different perspective on life, not just for the holidays.  The National Council for Hypnotherapy (NCH) writes that clinical hypnotherapy helps assess the issues and identifying their root – whether it is a situation, a physical issue, a past experience or a relationship. Perhaps you have triggers around family dynamics that go back to your childhood, or you've built up an overly rigid and unhelpful idea of what a 'perfect Christmas' should be and that's causing you strain and worry. Working collaboratively, the therapist and client will set goals and challenge unhelpful thinking patterns and create routines for healthy stress management, helping create a happy and positive frame of mind.
There are many practical steps you can take to help you cope better with holiday stress even in a year that's fraught with financial worries. Seeking out and building supportive relationships within your family and wider community can help you to feel more connected, grounded, and secure. Even though it's turning cold and dark outside, making sure you are eating and sleeping well and exercising regularly will also help to keep you on a more even keel. If these steps are not enough to alleviate your stress, the National Council for Hypnotherapy is well-placed to assist with over 2,000 registered hypnotherapists who can teach you tools and help you work through your problem.
Give yourself and your family a gift this Christmas by finding a therapist near you.