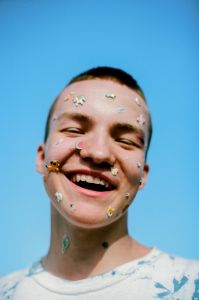 A recent article in The Guardian has highlighted the strain that children's mental health services are under in the UK. Instead of following NICE guidelines, children under the age of 18 are increasingly being prescribed antidepressants and referred to app based mental health programmes as there is simply too much demand for services and waiting lists are growing daily.
The number of 12- to 17-year-olds in England prescribed antidepressants has risen sharply since 2005, the report also discloses. It more than doubled between 2005 and 2017 and then soared again when Covid-19 struck in spring 2020, hitting an all-time high of 27,757 in March that year. About two-thirds of patients using them were girls.
As the cost of living crisis deepens, nearly 1 family in 5 is experiencing food insecurity and financial instability. Many children are shouldering emotional burdens far beyond their years as they seek to support their struggling families.  The larger the family, the more likely they are to be struggling right now.  These new worries are added to more common childhood difficulties such as bullying, gender dysphoria, stress and anxiety.
The National Council for Hypnotherapy (NCH) agrees with the NHS that early and targeted mental health interventions are crucial for ensuring the best possible outcome for children.
NICE guidelines state that antidepressants should not be prescribed to children under the age of 18 unless they are in regular talking therapy and under the care of a psychiatrist.  Unfortunately, the length of waiting lists means that the condition of many children's mental health deteriorates further while they are waiting for assessment and treatment.
A recent inquest into the death of a 12-year-old found that the family were advised that there would be a three year wait for child and adolescent mental health services (CAHMS). The admission of under 18s to adult mental health inpatient services has increased by 30% in the last year.
GPs are turning to social prescribing to plug the gaps.  NHS mental health trusts are prescribing activities such as roller skating, surfing, performing arts, and gardening in an attempt to improve young people's mental health while they wait for specialist mental health services.
Supported by University College London, the trial will be rolled out UK wide if the pilot is successful. They believe that social prescribing may be enough to improve mental health outcomes, reducing loneliness and improving social skills. However, they concede that there are logistical difficulties around the costs of activities and transport to and from venues.
Olly Parker, the head of external affairs and the charity Young Minds says that supporting people in a holistic and non-medicalised manner can make a significant impact on a young person's mental state, but it's no substitute for other types of support like talking therapies.
Children and adolescents are great candidates for hypnotherapy.  They are usually incredibly imaginative and cognitively flexible, this allows them to quickly take on new thought patterns and ideas, shedding the old and unhelpful.  Many hypnotherapists who specialise in working with children comment on how fast changes can be made within the child's construct of the world compared to adults.
Moreover, hypnotherapy doesn't involve any drugs or expensive equipment.  If caught and treated early, childhood mental health problems can resolve quickly and completely.  Most hypnotherapists are happy to have a no-obligation meeting with you and your child to discuss these problems and make suggestions for intervention.  Visit our database of hypnotherapists to find someone local to you.